Call for Papers - Covid-19
English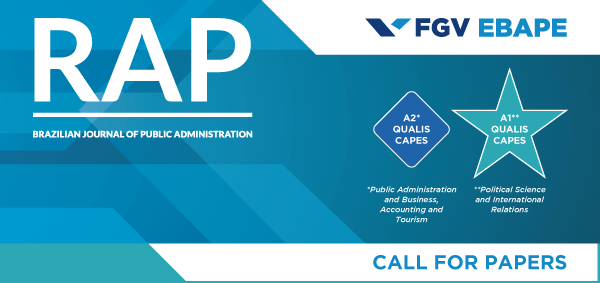 On December 12, 2019 a new coronavirus (SARS-CoV-2) emerged, causing severe acute respiratory syndrome in human beings (called Covid-19). The coronavirus spread globally and Covid-19 was declared a pandemic by the World Health Organization (WHO). The disease has been exposing the weaknesses of health systems and challenging governments worldwide.
The Brazilian Journal of Public Administration (RAP) created actions to contribute to the efforts of public, private, and non-profit actors to face the Covid-19 pandemic:
1. Together with Professors Claudia N. Avellaneda, from the Indiana University (USA), and Professor Kohei Suzuki, from the Leiden University (Netherlands), RAP launched a call for short papers on the topic "Governmental responses to Covid-19 pandemic." The aim is to gather reflections on strategies adopted by various international governments in order to build a comparative basis for analyzing the different approaches and their results.
http://bibliotecadigital.fgv.br/ojs/index.php/rap/pages/view/callforshortpapers
2. A special call for papers entitled "The response of the Brazilian public administration to the challenges of the pandemic," was designed to gather short papers (up to four thousand words) that respond, in a precise way, to concrete challenges to public administration imposed by the pandemic in Brazil.
http://bibliotecadigital.fgv.br/ojs/index.php/rap/pages/view/chamadaespecialdeartigos
3. Finally, RAP prepared a repository of articles on "Management and public policies in health," published in the journal, facilitating the access for those interested in the subject.
http://bibliotecadigital.fgv.br/ojs/index.php/rap/pages/view/repositoriodeartigos
For futher informations, send e-mail to rap@fgv.br