Alumni EBAPE encourage career building for students in undergraduate programs
English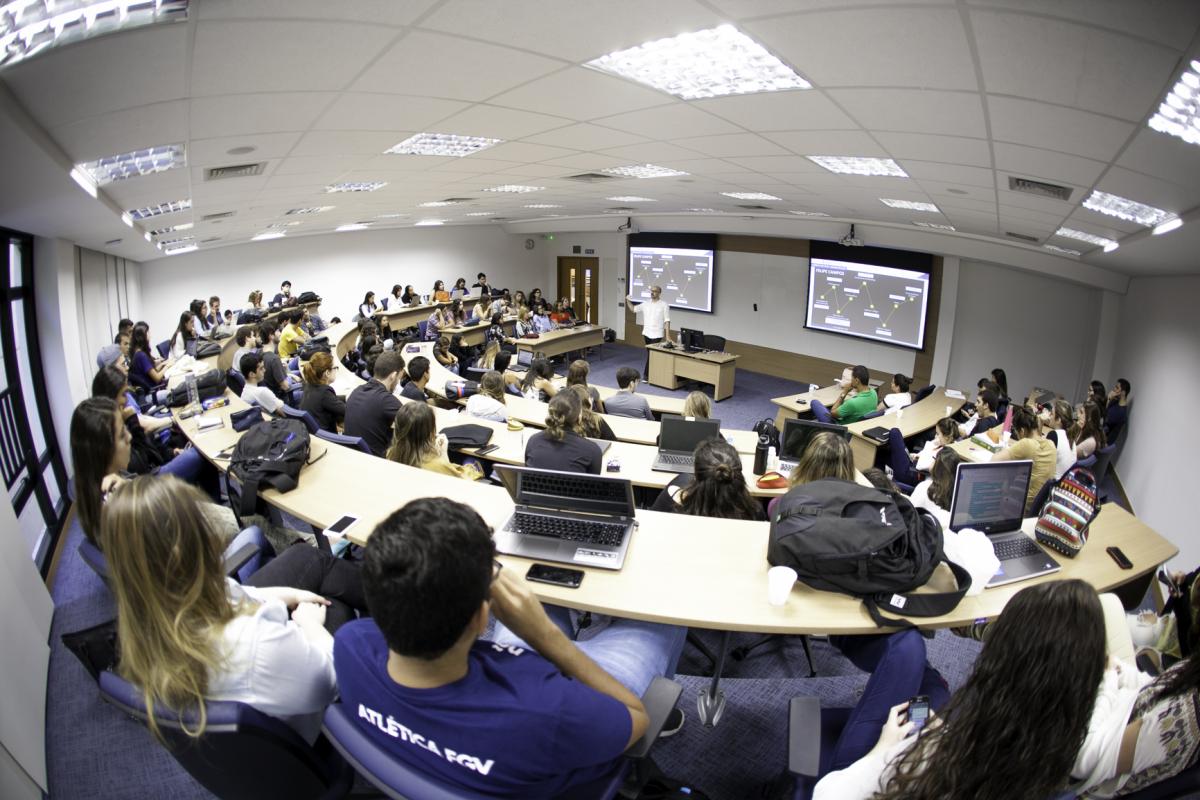 Professional tips, guidelines and aligning expectations. These topics were widely debated during the event 1st Career in Focus – Administration, held on 13 November at FGV EBAPE. The event was promoted by the coordination of the Alumni EBAPE Network, the coordination of the undergraduate program and the Internship and Career Development Center.
At the opening of the event, the coordinator of the undergraduate program Yuna Fontoura reinforced EBAPE's concern to work on career issues, market challenges and organizational reality, considering a scenario of changes (inclusion, diversity, culture). She stressed the importance of reflecting on building a career at the present times. Should we be constantly learning? How can you get into the job market? Which way to go? After graduation, should you pursue a master's?
To help understand the market's reality and the attitude expected from students, the coordinator of Alumni EBAPE Darliny Amorim invited three graduates to present possibilities in terms of career paths, based on their professional lives. They showed that, even having access to all tips and guidance, it is important to keep in mind that career building is an individual task, it depends on how much effort each person puts into achieving professional success.
Alumni EBAPE Marcela Batista (consultant at Accenture), Felipe Campos (Managing Partner of Wonderboom), and Raphael Tomé (former manager of B2W Digital, current operations director of Narciso Enxovais) talked to the 80 + undergraduate students attending the event, highlighting the practical aspects when it comes to building a professional career. They emphasized the focus and commitment that students must show, starting in the classroom, in order to enter the job market and achieve their professional goals.
EBAPE alumna Marcela Batista (2008 class) shared how she started her career, as an intern at the Brazilian Development Bank (BNDES) in the area of ​​market research. Before completing one year at the company, she sought a new professional experience and was hired as an intern at Accenture. Shortly after graduating from EBAPE, she was hired as a consultant and has been in the company for almost five years. Marcela stressed the importance of working in consulting, as she had the opportunity to work in different areas, which helped her evolve professionally. She highlighted the experience acquired in projects carried out with the company 'OI' in the logistics area, in the Government of the State of Rio de Janeiro in the planning area and in 'Algar Telecom', evidencing that the pace, the numerous demands and the experience with new challenges helped to build a solid career.
Marcela pointed out that once she graduated, she did an MBA in Logistics and, in 2017, she started the Executive Master in Business Management (MEX) at EBAPE.
EBAPE alumnus Raphael Tomé (2010 class) pointed out that, even before college, he was used to set goals for his life. When he started his education at EBAPE, the goal was to find a position as a trainee, a career status he found attractive because of the excellent pay and the companies' investment in the interns' professional development, preparing them to become executives. Raphael worked hard preparing for selective processes by engaging in experiences that would result in what he called "stories to tell": he got involved in the foundation of EBAPE's Students' Board (DAC), participated in the beginning of the program ENACTUS (current FGV Plus), completed an exchange in Milan, was a recruiter at Michael Page, worked in the Real Estate Investment Fund and, at the same time, was studying 9 courses at EBAPE, preparing the final thesis and participating in 9 selection processes for the position of trainee. Because the pressure to do well in the undergraduate program and in the selection processes was too great, Raphael decided to look for breathing and meditation techniques, which helped him to feel less exhausted and to make the best decisions for his career.
Raphael recalls a failure in his presentation strategy in one of the phases of the selection process for trainee at ALL – América Latina Logística (which was his preferred firm to work in). In his presentation during the process, instead of sticking with what he had planned, Raphael decided to innovate, improvise… and he was not selected. Raphael then went on to two other selection processes: Nestlé and Riachuelo, opting for the latter. He stayed for three months as a trainee in Riachuelo and then received an invitation to work as an Analyst at ALL. He negotiated his salary and started working at the company. His interest in growing was so great that he took all the courses at ALL's corporate university, even the course to be a railroad engineer! Raphael met a lot of people in the company, and set a new goal: to be promoted to a coordinating position before the colleagues that were in the trainee group formed in the selection he did not go through. He wanted to show how much the company had gained in having someone with his profile among its managers.
Raphael points out that candidates for trainee programs need to have a competitive edge over other candidates, because having a good school, speaking English, and computer skills are no longer enough. A manager looks for a candidate with initiative, who has already made a difference in some activity, be it academic, nonprofit voluntary work, or something else, but that demonstrates the potential in making decisions, in acting.
Raphael points out that every three months he consults with a mentor to evaluate his career. After ALL, he worked at B2W, at Site Blindado, always with the goal of continuous growth. After Site Blindado, he established a partnership with another EBAPE alumnus and today he is Director of Operations of Narciso Enxovais. According to a IBOPE's survey of 2016, the company is Brazil's top of mind in bathroom, bedroom and kitchen products, even though with stores only in the Northeast region of the country.
Felipe Campos, another EBAPE Alumnus (2003 class), from Rondônia, came to Rio de Janeiro to take an entrance exam for EBAPE. At that time, he was not clear about what he really wanted. He came from a small city, had no idea of ​​the market and did not know how to design his career. Gradually Felipe created a great identification with the program and began an internship at the FGV Junior, a junior enterprise that was just starting. After that, Felipe did an internship at the FGV Tourism Center (collecting data of the tourism market in other countries, so that the Ministry of Tourism could implement strategies to leverage tourism in Brazil); an internship at Petrobras in the area of international strategy; and passed the selection process for an internship in the Coca-Cola marketing area. At Coca-Cola he began his career, changing his view about the market. At this point he was able to make conscious choices of what he wanted to do professionally. Until then he had been riding along on opportunities.
As a trainee at Coca-Cola, Felipe worked with branding, products, concepts and planning, but at a certain point he began to question some time-consuming stages of the trainee program. In order to improve his career, he decided to leave the company and to attend the Master in Sociology and Communication – Socio-Cultural Analysis of Communication and Knowledge, at the Universidad Computense de Madrid. The program helped him to better understand and reduce his criticism toward the market, broadening his vision about marketing. Upon returning to Brazil, he began working at Natura, a company more aligned to the area of ​​sustainability, a theme relevant to him. However, he felt again the need to expand his activities and sought opportunities in consulting, working at Futurebrand (branding consultancy), the NBS offline agency and FLAGCX (digital agency). He held a few positions in the area, where he worked with research, branding, and dealt with many challenges. He then worked at SpringPoint (a company that has characteristics similar to a network) and from that experience came the motivation to start his own business, the company Wonderboom – Consultoria Criativa, that works with research and branding and serves from large companies such as Coca-Cola to medium-sized companies.
The three Alumni were unanimous in reinforcing that, when graduating from FGV EBAPE, the student counts on well-reputed title, an education recognized by the national and international market. But it is important to keep in mind that there is lots of hard work from the student, seeking opportunities to be different and appealing in the job market competition: some strategies are to participate in students' board, in researching projects, questioning – keeping in mind that you need to prepare to take responsibility, make decisions and find ways to help making conscious choices. The job market wants people with attitude, so it's best to develop it in the classroom.
At the end of the event, the graduates Marcela Batista and Felipe Campos launched a challenge for the students of the 8th semester: the alumni described two real situations they went through in their career and asked the graduates to reflect and then present, in the classroom on November 17, the decisions they would make if they were in the described situations.
---
The Alumni EBAPE team thanks the partnership and availability of the alumni who participated sharing their career history with the students who chose EBAPE to start their own career path.